Our company develops embedded device software and hardware, and enhanced productivity IT systems for manufacturers.
We utilize complete electronics to provide total support across software and hardware, from system planning and design to development, testing, and mass production.t/sales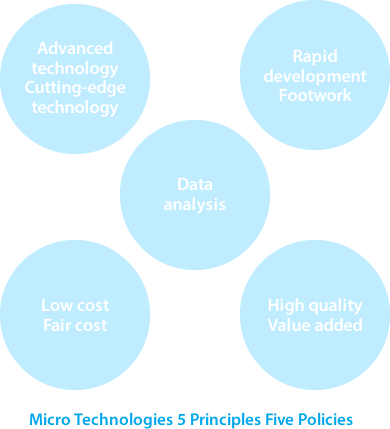 Our people-driven cutting-edge technologies
Support development on-site
We provide customers with comprehensive product development support.
Our approach enables customers to meet their needs with flexibility throughout the development process, from system planning and prototype development to mass production.
At MT, we pride ourselves on our ability to work closely with customers, thanks to our talented and hard-working people.
Impressing our customers gives us confidence.
Micro Technology supports customer on-site development with its five policies.
Our employees constantly study the latest technologies to offer customers the right recommendations, and bring them to fruition together.
Impressing our customers beyond mere satisfaction gives us the greatest joy.

These strengths are the unique product of
our technological know-how and talented people.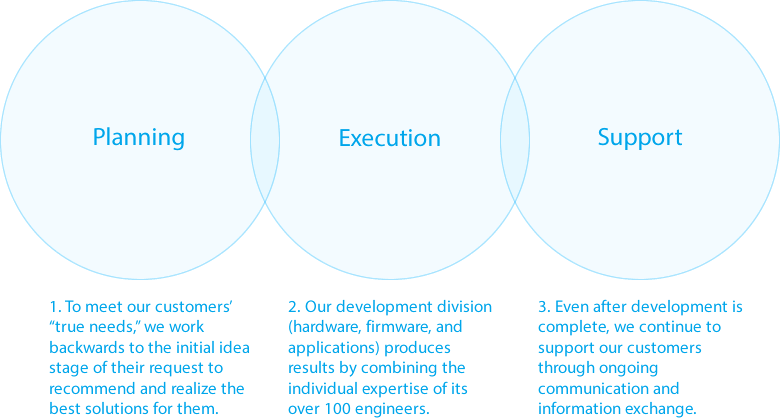 Atom Medical Corporation / Japan Aerospace Exploration Agency (JAXA) / NTT Communications Corporation / NTT Software Corporation /
Oki Electric Industry Co., Ltd. / Oki Data Corporation / Canon Inc. / Canon IT Solutions Inc. / Keihin Corporation / Konica Minolta Holdings, Inc /
Sony Group / Toshiba Corporation / Toshiba Tec Corporation / Tom Communication Industrial Co., Ltd. / Nippon Conlux Co.,Ltd. /
Japan Broadcasting Corporation (NHK) / Pioneer Corporation / Panasonic Corporation / Fuji Xerox Co., Ltd. /
Fuji Xerox Advanced Technology Co., Ltd. / Fujitsu Advanced Engineering Limited / Fujifilm Holdings Corporation / Furukawa Electric Co., Ltd. /
Minister of Defense / Honda Motor Co.,Ltd. / Honda R&D Co.,Ltd. / Honda Engineering Co.,Ltd. / Ricoh Company, Ltd.

Company Name
Micro Technology Co., Ltd.
Founded
13-Jun-83
Capital
131.8 million yen
Employees
152 people (as of June 2017)
Location
TIXTOWER UENO 4-8-1,Higashi Ueno,Taito-ku,Tokyo,
110-0015,Japan
Phone/FAX
Phone:+81-3-3845-8080 FAX:+81-3-3845-8086
URL
http://www.microtechnology.co.jp/
Affiliated Company
Techno Staff Co., Ltd.
| | |
| --- | --- |
| Directors | |
| President | Shinichi Ishimatsu |
| Executive Director | Reijo Ishimatsu |
| Managing Director | Shingo Ikariyama |
| Director | Kou Aosaki |
| Director | Akira Sudo |
| Company Auditor | Yoshiyuki Maejima |